FLOSS Dental: A Practice That Practices Family
Forced to live in a refugee camp in Chon Buri city along the way, before finally escaping to the United States, the situations that the Tran family have been through together make it more natural for them to work together as a family where other families would struggle. Dr. Michael Tran comes from a family that remains close knit across generations to this day, with his current situation involving three generations living under one roof. When asked about that situation, he laughed and jokingly referred to it all as being very 'Asian', acknowledging that other cultures that have settled in the United States more commonly only have one or two generations living at one address. "Although we may not have this setup at home forever, my wife and I enjoy it now because we are able to help with our parents, who are starting to get to an age where dealing with health challenges is becoming more common for them. My children are also getting to know their grandparents closely, and vice versa." For the Trans, the advantages seem to outweigh the disadvantages at this stage in their family's story.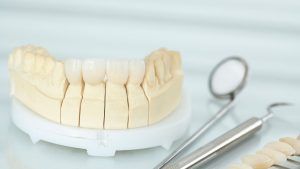 So how does this setup at home spill over into dentistry, and FLOSS Dental? It's pretty simple. Michael is leading a group of people in the form of owner/operators and staff that is growing in numbers along with the growth of the fastest growing brand in the dental industry. There are so many different ways to grow a business model and it's even possible for that business to grow and have success without being founded in great principles. But those businesses that are not being grown the right way will eventually hit a ceiling where their growth will stop. Dr. Tran originally got in to the dental field because he felt a strong inner pull to focus on a career path that would allow him to help others. Early on, Michael realized that the medical field offered some of the most amazing ways to help people. Being born in a refugee camp and experiencing what poverty is like firsthand, when he found out that doctors are in a pretty good position to provide for their family he decided to pursue his interests in it. When he learned his chances to own his own practice were greatest in dentistry, he decided to put all of his focus there.
Extended Family as a Dental Business Model
When FLOSS Dental was in its earliest days Michael was given an opportunity to own a practice very early on in his career. Another dentist who originally set out to build the FLOSS brand saw a glimmer in Michael's eye that he identified as a spark. Calling him an 'abundant', he asked Michael if he wanted to try to breathe new life into a practice that was closing due to a failed partnership. Given the situation, the other doctor was able to make all of the math work well enough to give Dr. Tran a shot where otherwise an opportunity to do so might not have existed. Michael jumped at the opportunity. Without even realizing he was doing it, he very quickly went from fixing an old broken office to building the foundation for the fastest growing dental brand in the US. His natural ability to get along with others isn't exactly natural. Living with several generations of your family under one roof makes you a master ninja at working through all of the ups and downs that all of us have daily. Many households struggle to create any semblance of working together in unison with only one or two generations to deal with. The larger the FLOSS Dental brand grows, the more diverse the 'family' that carries out the brand's mission will become. People who go home to being a spouse, or parent, or who care for their elder parents all work for FLOSS now. FLOSS Dental chooses to blur the line on what's considered family. The goal mentality of the company — we are all family.
You would do anything in your power to make sure that your child arrives at their first day of school each year after sleeping in a warm bed the night before, with a backpack full of all the supplies they need, and a fresh set of duds including some new kicks. It's this mindset that FLOSS has about every person that is added to the family. The company is growing and it gets really busy at times when growth occurs. Often the need for a new teammate becomes almost dire. But the company prides itself on choosing its people wisely. Dr. Michael Tran joked, "With families there is always that strange uncle in the family, or what many refer to as the black sheep. However, they are born in to the family and there isn't much you can do about that. When we choose new employees, we try to make sure they are going to be a great addition to the family and fit in to the Flossy vibe and atmosphere which is a term the team coined themselves to capture the drama-free, upbeat vibe we all work to create and maintain as a collective group." When everyone feels like they are part of a group on this level, work feels less like work, and the level of service that is provided for patients is hard to put in to words. Whether you refer to it as JuJu, or secret sauce, or another cliche phrase for it all, FLOSS Dental has it. You can feel the energy when you cross the threshold into any of their locations. Sure, it makes sense that any dentist would make sure that his staff greets people with a smile when they arrive, but the FLOSS staff has a genuineness that only a close-knit family can give off. Patients adore it. It works for the brand on a level that is difficult to put a value on. Dentistry is an industry where it's known by the best in the craft that creating a comfortable environment for patients is the key. Although office aesthetics and so many other things play into creating that environment, FLOSS gets it that it's about the people that provide the experience more than anything else.
The company chooses people for their warm bedside manner and ability to work with others and stay cool as a cucumber. The way Dr. Tran sees it, most of those qualities come baked in, and are difficult to change in adults that are often pretty set in their ways already. Training and continuing education is another pillar that the brand's success is built upon. Starting with great people that fit in to an intentional family vibe and training them to be the best in the industry is what it's about. Our team loves what they do. "Knowing they will receive the best knowledge and training in the industry throughout their career at FLOSS Dental makes it an easy choice for them to join the family," Tran said.
About FLOSS Dental:
FLOSS Dental is the fastest growing retail dental brand with headquarters in Houston, Texas. Their success is underpinned by the brand's promise to always provide A New Experience in Dental. With almost a dozen units operating in north Texas and beyond, the company has been making consistent investments in growing the brand nationwide. New FLOSS locations are currently being developed in Georgia, Ohio, and the US Virgin Islands. For information on Floss Dental visit flossdental.com, and FLOSS franchising visit flossfranchise.com.